Replacement of a milk of lime storage tank
Replacement of a milk of lime storage tank to increase the storage capacity of the milk of lime needed for the process of a wastewater treatment plant, with a pre-study of different solutions ranging from the replacement of the existing tank to the in-situ preparation of milk of lime from hydrated lime.

Creation of a guide plan for the storage tank, of the double envelope type, with a capacity of 70m³.

Relocation of the discharge point with construction of a collection tank and adaptation of the piping.

Relocation of the extraction pumps.

Detailed study of the piping and supports for the transfer of the milk of lime and rinsing of the pump bearings with water to avoid any leakage of milk of lime to the outside.

Follow-up of the manufacturing process with dimensional control in the workshop and on site.

Production of the AS BUILT file.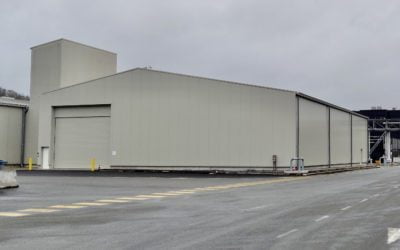 Extension of the spare parts store Client : BIOWANZE Description Surface 900m², that is 29 x 31m, in addition to the initial surface of +/- 1.000m². Structure in hot galvanized steel with a total weight of +/- 42 Tons. Cladding and covering by sandwich panels, with...