Replacement of a milk of lime storage tank
Date of completion :
November 2021
Following BIOWANZE's objective of increasing the storage capacity of a lime milk tank, we were asked to replace it. The aim was to meet the growing process requirements of a wastewater treatment plant.
As part of this project, our team carried out an in-depth pre-study to evaluate different solutions, ranging from replacement of the existing tank to in-situ preparation of milk of lime from hydrated lime.
Our intervention included the creation of a detailed guide plan for the new storage tank, which was designed with a double envelope and a capacity of 70m³. In addition, we relocated the discharge point, creating a collection tank and adapting the corresponding piping. The discharge pumps were also relocated to ensure optimum operation.
In order to ensure the transfer of the lime milk and the rinsing of the pump bearings with water, a detailed study of the piping and supports was carried out, thus avoiding any leakage of liquid to the outside.
This project was closely monitored by our engineers, who carried out dimensional checks in the workshop and on site. Finally, we completed the project with an exhaustive AS BUILT file, providing full and accurate documentation of the modifications made.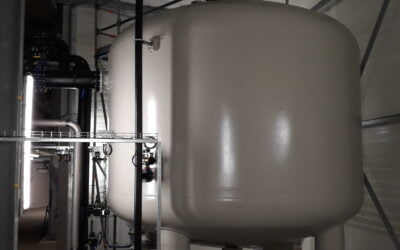 Addition of a sand filter Customer: BIOWANZE Date of completion : July 2020Known for its exploitation of new energy sources from renewable energies, the company BIOWANZE called on our expertise for the extension of its water treatment unit in the wastewater treatment...