Revamping of a concrete slab of a process building
Date of completion :
June 2022
At BENEO ORAFTI's request, we were asked to redo a concrete slab in a process building.
With a total surface area of around 350 m², the aim was to optimize the slopes of the floor, to ensure efficient collection of the various effluents towards the treatment network.
In the interests of hygiene and cleanliness, measures were taken to facilitate floor cleaning, notably by adapting pipe networks and equipment supports. At the same time, a layer of protective epoxy resin was added to cope with the acidic juices processed.
Finally, the resin was applied to the edges of the concrete blocks and around the building's columns, with a rounded edge between the resin and the floor, guaranteeing a quality finish.
Throughout the project, we provided regular on-site monitoring, ensuring that the customer's requirements and specifications were met.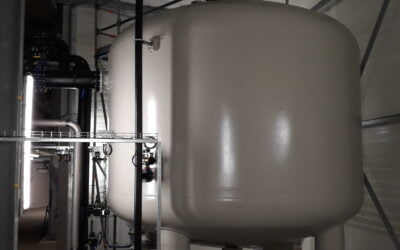 Addition of a sand filter Customer: BIOWANZE Date of completion : July 2020Known for its exploitation of new energy sources from renewable energies, the company BIOWANZE called on our expertise for the extension of its water treatment unit in the wastewater treatment...