Replacement of process tanks
Date of completion:
July 2021
We are delighted to present our BENEO ORAFTI process tank replacement project.
As part of this initiative, detailed site surveys were carried out to assess existing facilities. This procedure is essential to establishing a complete project plan, identifying all the tanks to be replaced as well as those to be moved, in addition to the necessary modifications to the piping.
Thanks to our team of designers, we have produced precise detailed plans of the supports required for the new tanks and pipes, as well as for the access walkways. These plans ensure a solid and secure installation, guaranteeing adequate weight distribution and compatibility with environmental constraints.
The detailed plans of the pipelines, both for the new lines and for the existing pipelines to be modified, have been drawn up with the greatest care.
All the necessary consultations were carried out in depth, accompanied by a rigorous technical comparison.
Finally, close monitoring of the achievements was ensured throughout the project, with a presence on the ground to carefully supervise the work. Our team ensured that the plans were constantly updated, in order to create an "AS BUILT" record that accurately reflected the changes made to the installation.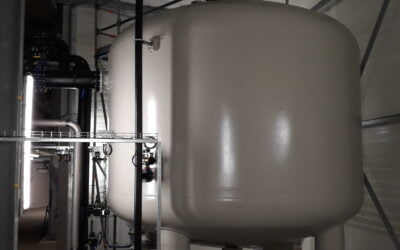 Addition of a sand filter Customer: BIOWANZE Date of completion : July 2020Known for its exploitation of new energy sources from renewable energies, the company BIOWANZE called on our expertise for the extension of its water treatment unit in the wastewater treatment...