Renforcement d'une structure métallique d'un bâtiment de process
Date de réalisation :
Octobre 2021
Souhaitant renforcer une structure métallique d'un batîment de stockage sur le site d'AFTON à Feluy, la société BELGOREX a fait appel à nos services.
En premier lieu, nous avons procédé à un relevé détaillé de la structure existante sur site. À partir de ces informations, ont été identifiés les éléments necessitant des renforcements et des modifications afin de répondre aux besoins spécifiques du projet. Des notes de calculs ont donc été réalisées.
Voir la galerie de ce projet :
Par la suite, nous avons créé des plans précis des renforcements de la structure métallique avec reprise en charge des efforts existants.
L'objectif principal était de supprimer une colonne, pour améliorer la manœuvrabilité dans la zone de stockage et réduire les risques d'accrochage.
Les projets les plus récents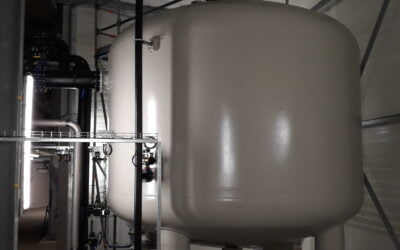 Addition of a sand filter Customer: BIOWANZE Date of completion : July 2020Known for its exploitation of new energy sources from renewable energies, the company BIOWANZE called on our expertise for the extension of its water treatment unit in the wastewater treatment...