Réaffectation d'un silo de stockage de poudre
Date de réalisation :
Septembre 2021
La société BIOWANZE a fait appel à nos services pour réaliser un projet de réaffectation d'un silo de stockage de poudre.
L'objectif était de transformer ce silo afin de le rendre apte au stockage de bicarbonate de soude, qui serait utilisé dans le traitement des rejets et des fumées des chaudières.
Nous avons effectué des adaptations au niveau des planchers sous le silo pour intégrer les équipements nécessaires à l'extraction, au dosage et à la manutention pneumatique de la poudre vers l'unité de traitement des fumées. 
Notre équipe a pris en charge la conception et la réalisation des plans détaillés, en tenant compte des spécifications techniques et des exigences du projet.
Un suivi rigoureux des réalisations sur site a été assuré, garantissant ainsi la mise en œuvre correcte des adaptations nécessaires.
Notre expertise a permis de mener à bien ce projet, répondant ainsi aux besoins spécifiques du client.
Les projets les plus récents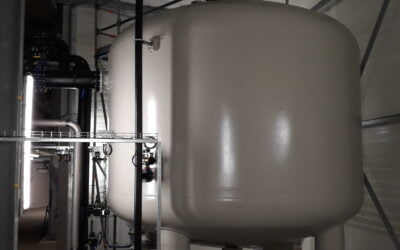 Addition of a sand filter Customer: BIOWANZE Date of completion : July 2020Known for its exploitation of new energy sources from renewable energies, the company BIOWANZE called on our expertise for the extension of its water treatment unit in the wastewater treatment...