Goulotte d'évacuation du briquetage d'un four de cimenterie
Client : CCB Cementir Holding
Date de réalisation :
Mars 2021
Faisant partie des acteurs majeurs de l'industrie cimentière, de la production de granulats et de béton prêt à l'emploi, la société CCB CEMENTIR HOLDING a fait appel à notre expertise. Notre intervention visait à réaliser l'installation d'une goulotte d'évacuation du briquetage d'un four de cimenterie, conformément aux besoins spécifiques du client.
Ce projet impliquait le remplacement de la virole existante, ainsi que la mise en place d'une goulotte équipée d'une trappe de vidange. Dans ce contexte, un plan guide détaillé de la goulotte d'évacuation a été réalisé, permettant de visualiser et d'optimiser les différentes étapes de l'installation.
Tout au long du processus, nous avons assuré un suivi rigoureux des fabrications, en veillant à effectuer des contrôles de qualité réguliers sur site. Cette approche nous a permis de garantir la conformité des éléments fabriqués avec les spécifications techniques requises, assurant ainsi la fiabilité et la durabilité de l'ensemble.
Voir la galerie du projet :
Les projets les plus récents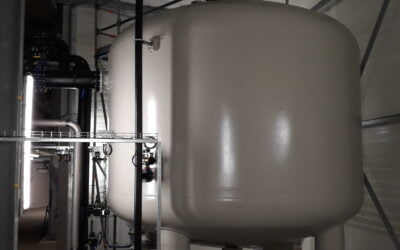 Addition of a sand filter Customer: BIOWANZE Date of completion : July 2020Known for its exploitation of new energy sources from renewable energies, the company BIOWANZE called on our expertise for the extension of its water treatment unit in the wastewater treatment...