Ventilation of a technical room
Ventilation of a technical room for periodic renewal of the air in the room for the elimination of undesired fumes, with filter unit for the incoming air and extraction at different speeds depending on the temperature set point and the desired operating conditions.
Ventilation and cooling of electrical rooms with definition of minimum flow rates according to the heat output to be evacuated, creation of project plans taking into account all dimensions and constraints, consultation and monitoring of the work.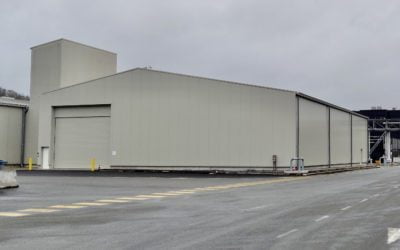 Extension of the spare parts store Client : BIOWANZE Description Surface 900m², that is 29 x 31m, in addition to the initial surface of +/- 1.000m². Structure in hot galvanized steel with a total weight of +/- 42 Tons. Cladding and covering by sandwich panels, with...