Revamping of a cement kiln cooler
Client :

CCB Cementir Holding
Cooler for furnace 4, with a capacity of 4,500 tonnes per day.
Feasibility study of chiller modifications for performance improvement, based on customer's indications.
Detailed calculations and drawings of the new cooler inlet grate moving frames, based on the customer's data on operating temperature, static and dynamic loads.
Detailed calculations and drawings of new moving frame support shafts with static beams over 5m wide.
Detail drawing of the bearings supporting the moving grid rollers, both plain roller and guide roller with flanges, incorporating specific bearings imposed by the client.
Detail drawing of the bulkhead joints at the passage of the moving frames.
Assistance to the customer during construction on site for monitoring and periodic control.
Les projets les plus récents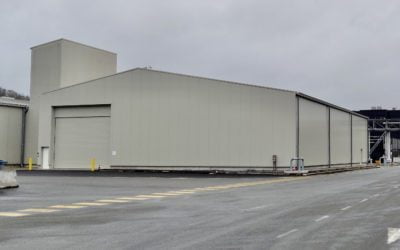 Extension of the spare parts store Client : BIOWANZE Description Surface 900m², that is 29 x 31m, in addition to the initial surface of +/- 1.000m². Structure in hot galvanized steel with a total weight of +/- 42 Tons. Cladding and covering by sandwich panels, with...