Replacement of separation cyclones
On-site surveys of existing installations.
3D scan of existing pipework and cyclones to be replaced.
Definition of a new layout and design (quality, diameter and thickness) of the pipes to minimise pressure losses, reduce pipe abrasion, favour a flow free of any stress generated by bends with too small a radius of curvature and by successions of bends, all in order to avoid the blockages frequently encountered by production.
Search for seals specially adapted to the characteristics of the product and to the abrasion suffered at the cyclone outlet.
Production of detailed drawings of the new piping (2D and 3D) with integration of the new cyclones according to the design imposed by the customer.
Creation of detailed drawings of the supports.
Consultation of the various elements.
Follow-up of the realisations.
Updating of plans for the creation of an AS BUILT file.
Les projets les plus récents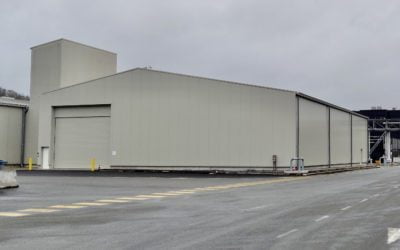 Extension of the spare parts store Client : BIOWANZE Description Surface 900m², that is 29 x 31m, in addition to the initial surface of +/- 1.000m². Structure in hot galvanized steel with a total weight of +/- 42 Tons. Cladding and covering by sandwich panels, with...