CO2 recovery for soft drinks
CO2 recovery for carbonated beverages, with capture of part of the CO2 generated by the process, purification, compression and transfer to a purification and liquefaction unit.
This project includes various items such as
Steel structures to support the new equipment, pipe supports, etc.
Monorails for the maintenance of the process machines
Piping networks from the compressed air network to the 22 bars compressed CO2 transfer line with a length of 650 metres
Civil engineering works and infrastructure…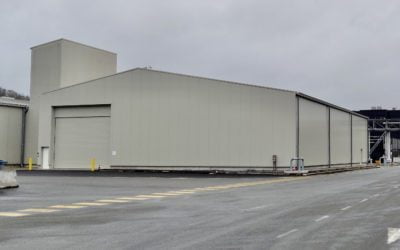 Extension of the spare parts store Client : BIOWANZE Description Surface 900m², that is 29 x 31m, in addition to the initial surface of +/- 1.000m². Structure in hot galvanized steel with a total weight of +/- 42 Tons. Cladding and covering by sandwich panels, with...